---
Current Atlantic Tropical Cyclone Activity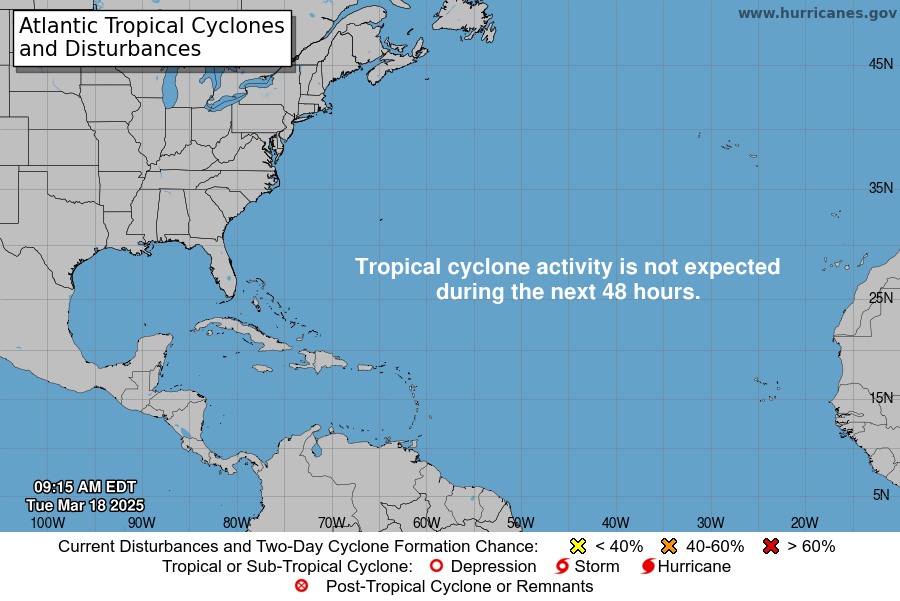 Current Eastern Pacific Ocean Tropical Cyclone Activity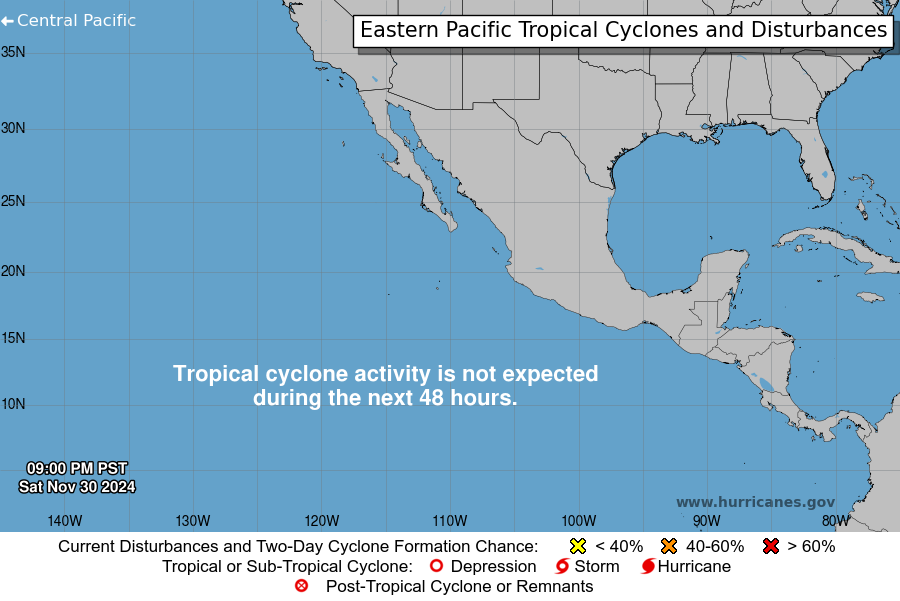 About Tropical-Hurricane
This site provides Atlantic hurricane weather forecasts, hurricane maps, tropical weather conditions, hurricane models, tropical storm outlook, storm tracks, and tropical cyclone discussions.
Included are hurricane predictions and tracks, weather satellite maps, weather radar images, tropical cyclone weather terminology, links to official tropical weather sites such as the National Hurricane Center (NHC) and the National Weather Service (NWS), and related hurricane reference information.
This website also presents common hurricane facts for kids, students and teachers to help them understand tropical weather.
About Us
We've been watching tropical storms and hurricanes for decades, as amateur weather watchers. We are not weather professionals or meteorologists. Our interest in, and respect for, the power of nature continues today.
We continue to monitor tropical weather, and present it on this website in a quick, understandable, and easy-to-read format, with links to more detailed weather resources for those readers who require more in-depth information and forecasts.
We don't interpret or analyze the weather or make our own forecasts, but instead provide information to our viewers from reliable sites.
The official Atlantic 2016 hurricane season began on June 1 and end on November 30, 2016. The Eastern Pacific hurricane season begins on May 15 and ends on November 30.
Information Provided ... Always Refer to Official Weather Sites
It is your responsibility to ensure the safety of you and your family.  Please follow all weather bulletins and instructions posted by the National Hurricane Center (NHC) and the National Weather Service (NWS).  Make informed decisions based on the information provided by the NHC and NWS, as well as your local offices and news outlets.
Reports presented here and may or may not be the most current forecast available from these official forecasting agencies. While we attempt to keep everything current, remember to use this site only as a supplement to official sources. We take no responsibility as to how you choose to use this site or interpret the information provided thereon.
As we monitor the 2016 Atlantic hurricane season, we thank the National Hurricane Center and the National Weather Service for providing content for this site, and for their dedication in protecting the citizens along the U.S. coastlines.
Most Popular Today at Tropical-Hurricane
Current Tropical Conditions, Updates, Advisories

Current Weather Satellite Images, Weather Maps, and Weather Charts

2016 Hurricane Names for Atlantic and Eastern Pacifc regions

Weather Forecasting Computer Models: GFDL, NOGAPS, UKMET, SHIPS, BAM, LBAR

Tropical Cyclone Glossary of Terms

Current U.S. Weather Reports, Maps and Forecasts

Sandy becomes the 77th hurricane name to be retired since 1954

Most Intense Tropical Storms on Record